MEETING WITH MATTHIEU BOUREL
21 June 2017
 Seen on A Part Volume 1, Meeting with Matthieu Bourel
WHO ARE YOU MATTHIEU BOUREL? TELL US A BIT MORE ABOUT YOURSELF. WHEN AND HOW DID YOU DECIDE TO MAKE COLLAGE?
I'm 37 and have been living in Berlin for eight years. I grew up in Rennes, Brittany. My parents were fond of cinema, so I've always lived among quite iconic images, whether from books or films.
When I was young I used to keep them as a collection, then I slowly started to assemble them on the walls of my room. In a very simple way first, then mixing them with other sources and finally in a more complex manner and with a more personal vision. Images then lost their identity to become a whole. I've always liked the reactivity between two images that had nothing in common at first. Since I had chosen to read audiovisual media and music, I long kept collage to myself, without considering it was a serious activity, more of a hobby. But I think that, in the end, my approach to editing, music and collage is very similar: to assimilate, copy, paste, digest, to make these sources mine and create my own blend. It's a whole process that goes through a multitude of 'small moments.'
WHAT ARE YOUR INFLUENCES? Relatively everything! WHO ARE THE GREAT MASTERS OF COLLAGE FOR YOU?
Max Ernest and his Week of Goodness, which I was able to see in Madrid during a tour. Hannah Höch for having been a pioneer. Jiří Kolář whom I discovered recently, for his writings about collage and experimenting with it. Dali, Magritte, Picasso and Braque who knew how to mix painting and other elements such as in collages. Kurt Schwitters for his political approach. And finally, as far as contemporaries are concerned, I'd say Julien Pacaud for his illustrations and John Stezaker for the simplicity of his collages. But there are so many more.
WHERE DO YOU TAKE YOUR INSPIRATION FROM? LIFE? YOUR PREDECESSORS? WITHIN YOURSELF? ALL OF THIS?
A bit of all this at the same time, but I avoid watching too much what others do so as to keep my entire freedom. I stay away from those too close to my world; I find my sources elsewhere.
I also learn a lot from life, from the path and choices of the artists I like through reading. Where they excelled and where they failed. It is important to see that each one has his own weaknesses so as to learn how to fight and go beyond one's own. At the moment, I am keenly immersed in suprematism and constructivism, which might appear as very elitist but are not that far from my own vision of things. These currents nourish me and are gradually leading me to painting, which I recently started. It is like a new page for playing and experimenting: I mix collage elements, but in a more abstract way.
FOR INSTANCE THE SERIES YOU MADE FOR A PART,
DID YOU THINK BEFOREHAND OF THE WAY YOU WANTED TO INTEGRATE JEWELS, OR DID YOU LET YOURSELF
BE CARRIED AWAY BY YOUR DESIRE?
I think this is first of all the result of the lovely correspondence with Pascal Paché (Creative Director, Editor's note) who invited me on his project. He told me about it, then gave me time to think it out and make it. So that I didn't have to work to a tight deadline. I let myself be carried away, it was very nice, when in the beginning my knowledge and passion for jewels was very relative. I see them differently now. The very concept of the magazine and the freedom of choice offered by Pascal were very important.
HOW DO YOU SELECT YOUR IMAGES? CAN YOU TELL US ABOUT YOUR CREATIVE PROCESS?
It is a quite primitive relationship I think. When I find an unknown image in a book, an exhibition or on the Internet, I may get an idea immediately, like a reading or an automatic appropriation; and some-times, I keep images and save then for later. That's what I mean by data-ism. The act of mentally digesting all the images or potential sources of inspiration around us: whether in the street, on TV, Internet or Tumblr. For me, Tumblr is a daily and inexhaustible source of inspiration thanks to the personal selection of other individuals with a different artistic education than mine.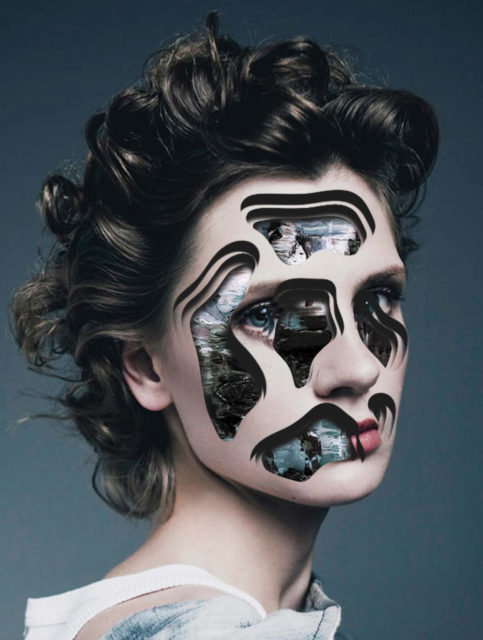 WHAT IS THE MESSAGE YOU'D LIKE TO CONVEY IN YOUR WORK?
Irony, in a general way, about topics we're all concerned by, in a more poetic or surrealistic way, or simply to make appear or to hint, in combination with an appropriate title or a definition, at something that them seems blatant, and is not so blatant for the others.
TELL US ABOUT YOUR OTHER ACTIVITIES. AND I KNOW THERE ARE MANY…
For a year or two, everything's been changing.
Parallel to my artistic activities and exhibitions, I make illustrations for Condé Nast, The New York Times, Wired, Art Kunstmagazin in Germany and Glamour in Italy. I like this a lot because in a short amount of time you have to hit the nail on a given subject, and with only one image.
It is not always obvious but the more I know the persons I work with and the more I know what I can allow myself to do and how far I can go.
As for music, I'm also preparing a new album for the Praxis record label in Berlin, but for a year it has got more and more difficult.
WHERE DO YOU FIND THE TIME TO FULFIL ALL THESE PASSIONS?
I never stop, as if my time was limited, especially since my son Léo was born, four years ago, one of the most beautiful things that happened to me.
THE NEXT STEP? THE NEXT PROJECT?
I am so busy at the moment that it is difficult to think to what's to come next, but globally it is to keep innovating, searching, looking beyond. Not to comfortably rest on my laurels, that's what I could say. Painting may be the next challenge for me.
INTERVIEW LAËTITIA ALLAL
COLLAGES MATTHIEU BOUREL
YOU MAY ALSO LIKE