MEETING WITH JEAN-FRANCOIS LEPAGE
21 juin 2017
Seen on A Part Volume 1, Meeting with Jean-François Lepage
WHO IS JEAN-FRANÇOIS LEPAGE?
A photographer. I started very young, at 20. First I was an assistant, but it didn't last long. Very soon I've worked for magazines: I started with small portraits, then still lives, then a front page, then double-pages, then publications and finally adverts. Then, when I was 26, my first child was born – I have four now – and one year after he was born, I stopped working for newspapers. I discovered drawing, painting and I developed my photographic work. I only started working for the press again at the age of 40! These years of break were very rich in experiments, and on hindsight I realise it was necessary: it built my character because I might have become a spoiled child! And to be honest, even if I've worked for prestigious media, my real passion are independent magazines. They very often stand out from the rest. In the early 80's, I had a fascinating experience with the magazine Jill. This contribution lasted two years. A real adventure that was fascinating for all the photographers who contributed, well for the cornerstones at least. I'm still excited by beginnings, new experiences, and to be frank, I think I'll always be because it encourages you to. …
BE CREATIVE?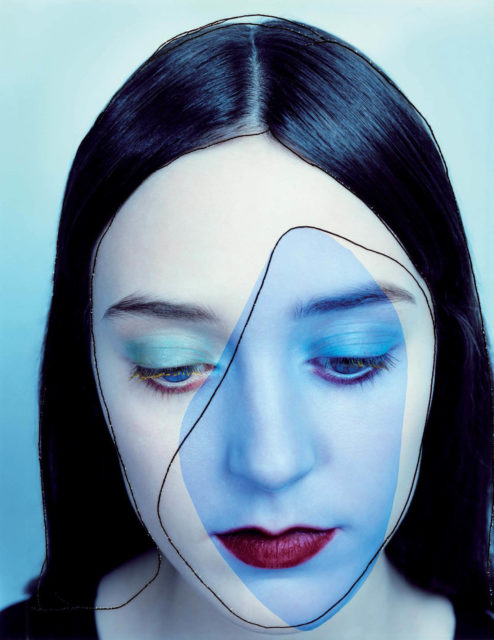 Yes creative, but also to improve. You don't need to care what people will say if you do this or that! Actually, there is no confinement, everything is open – people too – of course, you sometimes contribute to magazines that also need to tick all the boxes, then there are those that resist and fight in spite of everything and try to keep their authenticity. Actually, the most difficult thing for a magazine is to find a financial balance while at the same time keep certain honesty and real determination. This way of being a photographer is one of my specificities: fashion photographers must sometimes restrain themselves and I try to resist in my own way. I've always wanted to keep my spontaneity. It is beyond my control, I'm not a very good politician, I need sincerity too much!
TELL US ABOUT YOUR INFLUENCES.
Movies, no doubt! I am a child of the Cinéma de minuit, movies broadcast on TV every Friday and Sunday nights in the 70's. All the extraordinary films by Fritz Lang, Dreyer, Ford, Capra, Hitchcock, Welles, Kubrick, Godard, Fassbinder – and the actresses: Greta Garbo, Michèle Morgan, Marilyn, Katharine Hepburn.
AND IF I ASKED YOU ABOUT YOUR INFLUENCES IN VISUAL ARTS TODAY, WHO WOULD YOU MENTION?
It is complicated – I am lazy, I don't see many exhibitions. Today, when I see a book of contemporary art, I have the feeling that over the last 50 years we've defined more art movements than since the beginning of mankind, and it kind of puzzles me. Let's be honest: for a few decades, art has been, more and more, a business. And patrons are businessmen. In my opinion, there isn't much difference between David Guetta and Jeff Koons: one makes people dance, and the other waltzes with millions!
YOU SAID IN AN INTERVIEW THAT PHOTOGRAPHERS SUCH AS EUGENE SMITH, HENRI CARTIER-BRESSON AND ROBERT FRANK CONSTITUTED THE WHOLE OF YOUR VISUAL EDUCATION, HOW DOES SOMEONE BECOME A FASHION PHOTOGRAPHER?
When you like images, you naturally picture yourself as a reporter, that's what makes people dream most, isn't it? Don't we all want to become a reporter as a young person? I got my first Nikon camera at the age of 15. At the same time, my uncle, who was an art director for a magazine, had given me four books published by Delpire about reporter-photographers, among whom Henri Cartier-Bresson, Eugene Smith, Robert Frank. I loved their work, I still do. My uncle's choice was judicious. You know, I've always loved the cinema, it produces plenty of images and it's fantastic – but here, with a fixed image, you have to stop and look. And back then, photographers didn't consider themselves as artists, they were journalists. They all had in common this simplicity in the way they looked at things; there was no style effect. Actually I borrowed my sense of staging from the cinema and improvisation from these photographers. I try to keep this feature in how I approach my subjects: to manage to give a certain truth when I am creating a set.
WHAT ABOUT STOLEN MOMENTS?
I made a few, when I was young, but my taste gradually evolved. In the 80's photo reportage started to decline, and today the medias have evolved with animated images. The film now represents an essential part of news coverage, and I think that fashion photography will gradually disappear – it is time to reinvent ourselves!
AND AS FAR AS FASHION IS CONCERNED WHO ARE YOUR FAVOURITE PHOTOGRAPHERS?
Erwin Blumenfield. His work was a real influence; he's always looked for creativity in spite of a very difficult career. When I first saw his images, it was in a small room in Beaubourg, more than twenty-five years ago, then at the Hyères Festival and now at the Jeu de Paume museum. Better late than never. You should absolutely read his autobiography, Jadis et Daguerre, a real gem! Guy Bourdin too, who was a myth when I was an assistant, and of course Helmut Newton, whom I used to meet at the studio Daguerre when I started. Spontaneous, humorous and passionate. There is also E. Steichen, his portraits of Greta Garbo are simply gorgeous; any fashion photographer owes him a lot! And then of course, Penn and Avedon. They are two great photographers. Penn is a major still life pho-tographer and Avedon's Harper's Bazaar period is just remarkable. Avedon is also an outstanding portrait-maker, his portraits are striking. The Americans is one of the greatest portrait books in the 20th century: he is the August Sanders of the late 20th century! He is accurate, modern and sublime. However, from the late 70's onwards, his fashion photographs became more bourgeois and academic. I've often wondered how he managed to separate his personal work from his ads for Versace in such a radical way – I am unable to do it.
PRECISELY, TELL US ABOUT THE WAY YOU WORK. DO YOU EXCLUSIVELY SHOOT WITH A VIEW CAMERA?
Yes, and always with films, which is more and more unusual.
WHY?
The force of habit, I think. I've never liked to shoot a lot. I take a picture in the same way I'd compose a painting, my photos are very much staged, I place the model etc. So the view camera is perfect for me. And since I rework my photos, I also need to have negatives and slides of a certain size so as to be able to easily engrave or cut them up.
YOU ESSENTIALLY TAKE PICTURES OF WOMEN.
WHAT DO THEY REPRESENT?
Like for many men, women represent a search for the other, so for me women are a terra incognita.
AND WHAT VISION OF THE WORLD, OF WOMEN AND OF FASHION LIES BEHIND YOUR SERIES?
I think I don't have any particular vision, I am like a sponge, I absorb the other.
The woman who's next to me while we are preparing the shoot, well I imagine her and I see her as different. I need to change her. I know that some of my images are rather radical and leave no one indifferent, and produce extreme reactions, one way or another.
IN YOUR ENGRAVINGS, YOUR DRAWINGS, SOME FEATURES RECUR: SEXUALITY IS VERY PRESENT …
Just like in Hieronymus Bosch's paintings, Goya's engravings, and some of Picasso's works, a part of my work, indeed, is centred on sexuality and death. I assimilate sexuality and death, and re-birth – it is classic, it hasn't changed for thousands of years, these are the eternal question for us: death, sexuality, birth. And it's true that for me it means to destructure the person. I use the body and I create needs. And when I create needs, I mutilate and I mutilate in order to create a more complete character. My approach is not dark, and maybe working in fashion is not that innocent.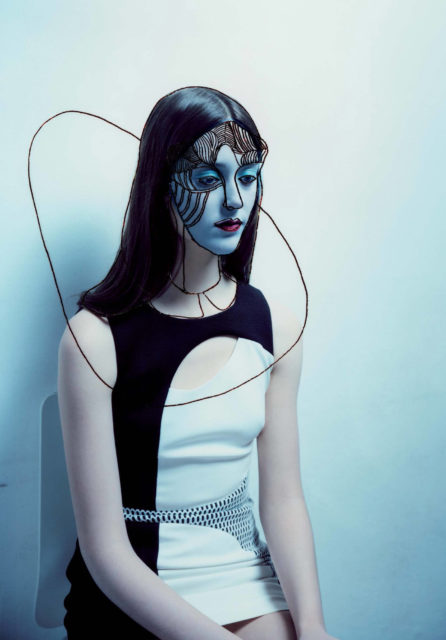 Let me explain: fashion, literally, means beauty and glamour. And I may have tried to be the opposite of this: to create hybrid beings while trying to keep the humanity in what I call the way to breathe. I am a bit like Cézanne: I try above all to make the matter alive. Through my images, I try to show that human beings are not such as we see them, but such as we are. WHAT FASHION DESIGNERS INSPIRE YOU? I loved Gaultier in the 80's: incredible energy, a lot of humour too.
I particularly liked Martin Margiela, I met him as an assistant for Gaultier and I think his clothes are eternal. It is a long list, there are so many: Balenciaga, Dior, Saint-Laurent, of course, Miyake, Rei Kawakubo, McQueen, Viktor & Rolf – you know, it may sound surprising but what I prefer above all is to photograph Valentino's dresses. They are sober and elegant, they make women look mysterious. Perfect for my images!
TO FINISH: PHOTOGRAPHY: A PASSION, A NEED, A NECESSITY?
A passion. Not a necessity. I like to make drawings and to paint, I can easily move from one passion to another.
INTERVIEW LAËTITIA ALLAL
PHOTOS JEAN-FRANÇOIS LEPAGE
CATCH US ON INSTAGRAM
Something is wrong.

Instagram token error.
YOU MAY ALSO LIKE